Pop Goes Canberra! is proud to present the first world exclusive shots of a new, less busty Shirley Clamp on the set of her new job at Prime ACT, where she hosts the night-time weather segment.
Shirley was obviously disappointed at the 4th placing of her 2005 Melodifestivalen entry
Att Alska Dig
, and subsequently fled Sweden in tears. She then recuperated at an unknown location, most likely Cable Beach Resort at Broome, or perhaps as some South Coast plumbers are suggesting, Nicole Kidman's new beach pad near Moruya Airport on the South Coast of New South Wales. She has since snared the prize job of Weatherwoman (Japanese movie style of course) on Channel 7 (home of
Desperate Housewives
,
Lost
, and of course,
Dancing with the Stars
, particularly Nikki Webster) affiliate, Prime.
Here are the photos of the new Shirley, taken tonight shortly after the end of
The Amazing Race.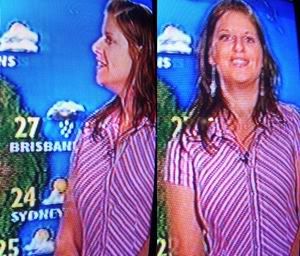 In happier times, still basking in the limelight of a 2nd place finish at Melodifestivalen 2004 with what was perhaps the best pop song of 2004,
Min Karlek,
this shot of Shirley being "held" by Andreas and Magnus from Alcazar was taken backstage at Nacka Strand, Stockholm on 22 December, 2004.